Here is a little tour of my shop.
Workbench, Utility Bench, Sharpening Station and Hand Tools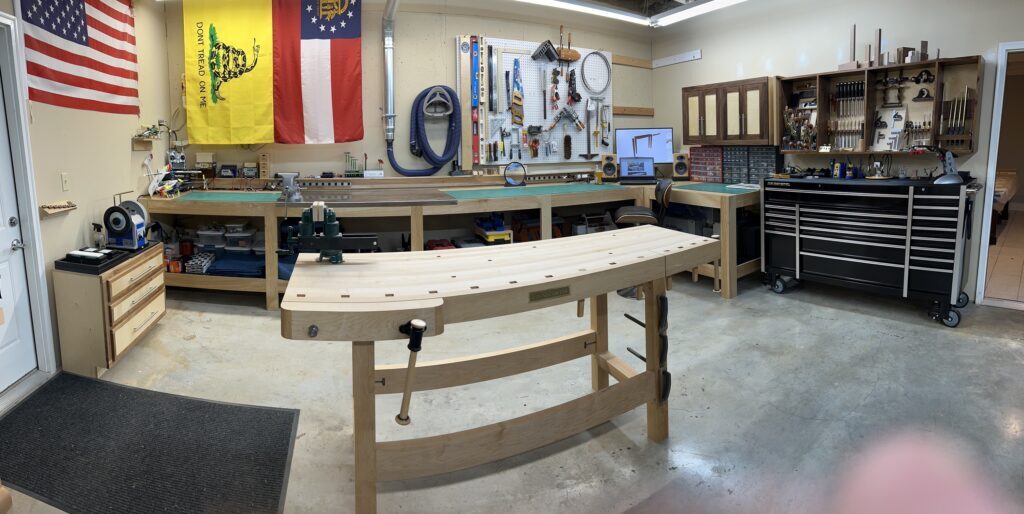 I built everything in here, except for the woodworking bench, which is made by Lie Nielsen.
Next to the bench is the hand tool cabinet and tool chest.
The sharpening station has a Tormek T-8 for machine sharpening, and a set of Shapton Glass stones along with two holders and a Pond.
The surface plates are next to the sharpening station. There is a Grade A 12″x18″x4″ Starrett plate that I only use as a reference (overkill, I know), and a Grade B 12″x18″x 3″ HHIP shop plate that I use for whatever (flattening plane soles, etc.). I built a table for them from maple to match the Lie Nielsen bench.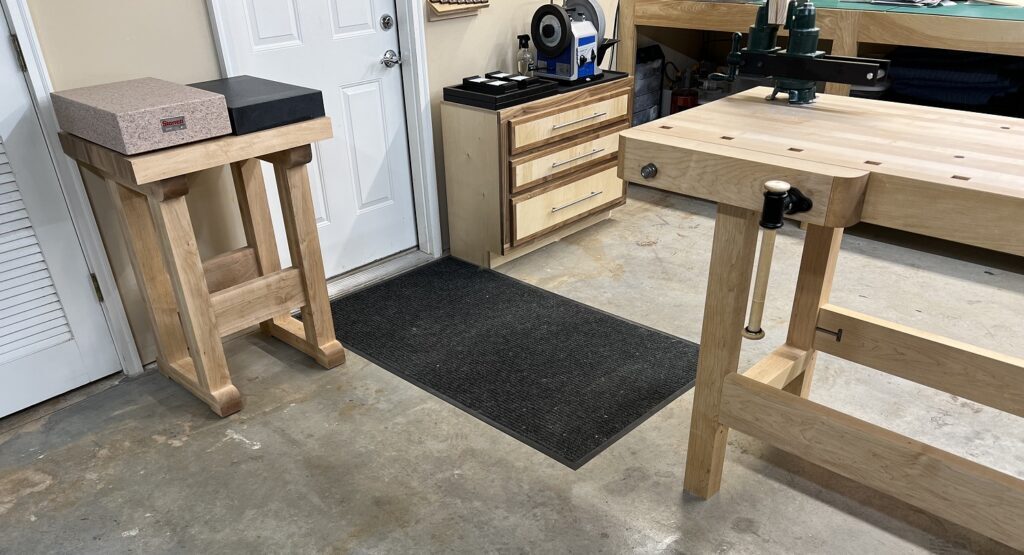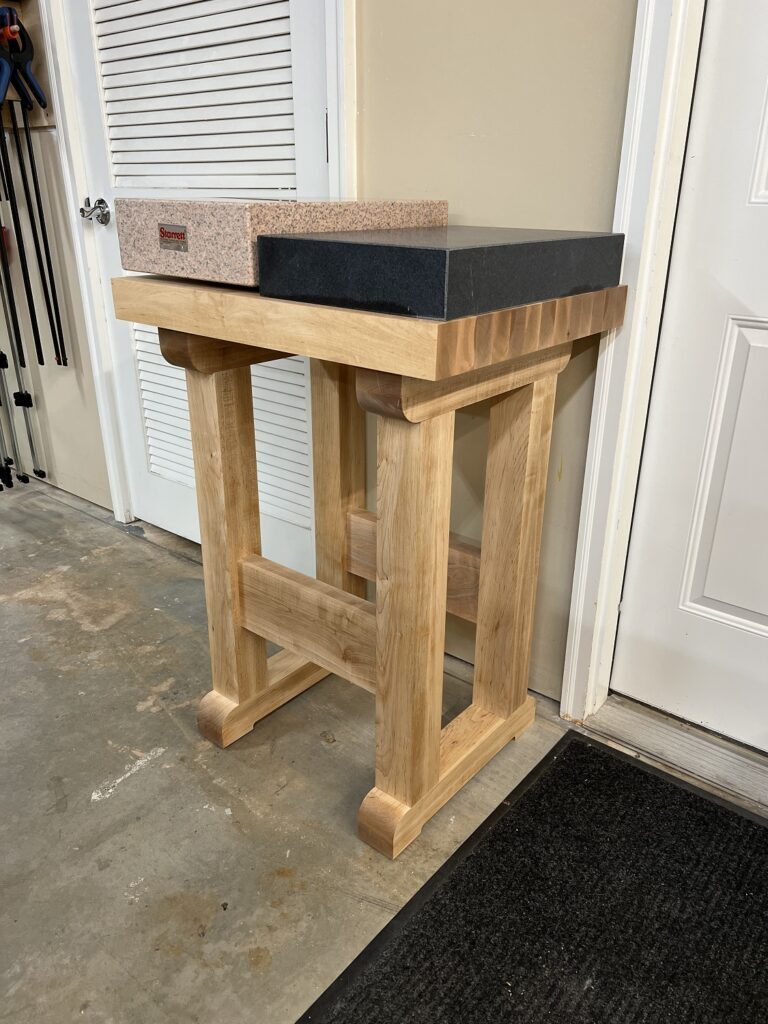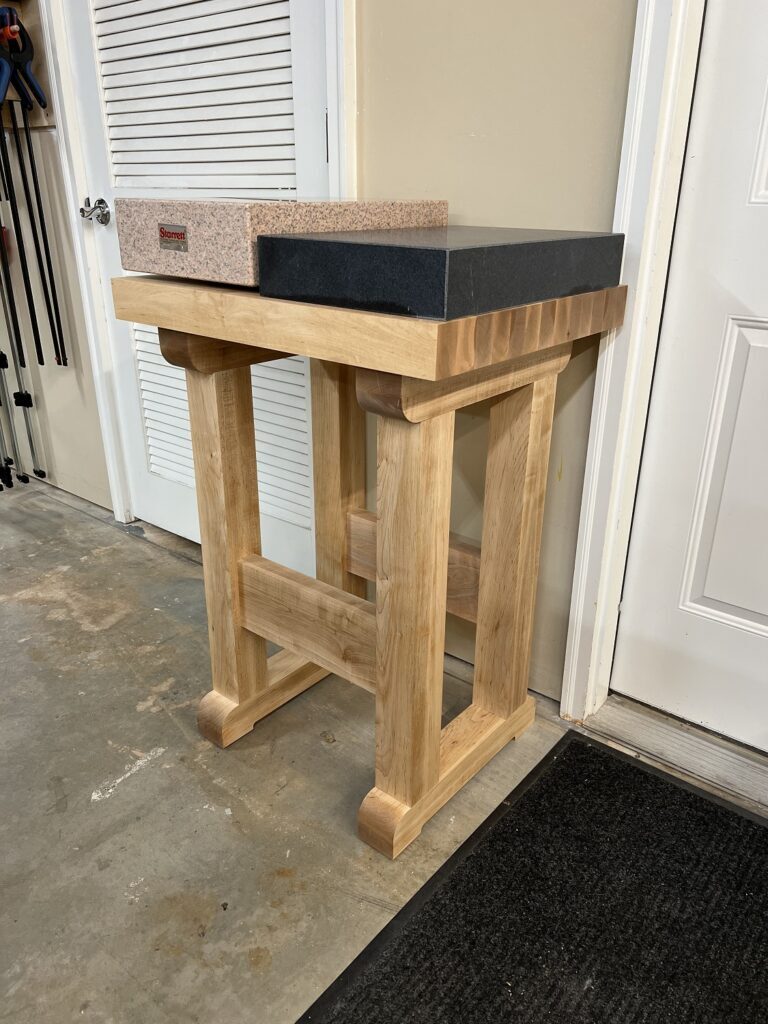 There is also a large utility bench with a full size shelf underneath.
Sanding Stations
Directly adjacent to the workbench area are the sanding stations.
There is a Powermatic BD31A belt and disk sander, and a Jet OSS-5 oscillating spindle sander. My little DeWalt 2.5 gallon Air compressor is wedged in there next to the trash can.
I have been happy with both machines, though Powermatic seems to be going down hill these days. Thankfully, the fit and operation are good, but the unboxing experience was very Harbor Freight, and the finish is really janky in places, particularly under the tables. The fit and finish on the JET is much better, but I had to make wing extensions to hold everything.
Finishing Room and Dust Collection
The garage door and finishing room door.
1 ton gantry crane.
Dust collection is handled by a 5hp Oneida Dust Gorilla with a 35 gallon drum. Great machine.
Router Table and Drill Press
Adjacent to the sanding stations are the router table and drill press. The router table doubles as a secondary outfeed table for the table saw, as well as an assembly table. It's about 3/4″ lower than the table saw outfeed table, and it catches stock or sheet goods 8′ or longer nicely so I can push it all the way clear of the fence.
The router is a Porter Cable 7518 mounted to an Incra Mast-R-Lift plate, set in a Benchdog 32″x24″ cast iron table. A Rockler Dust Bucket handles dust collection. This setup has worked really well. The router has lived up to its reputation for power and quality, and the dust collection is very effective.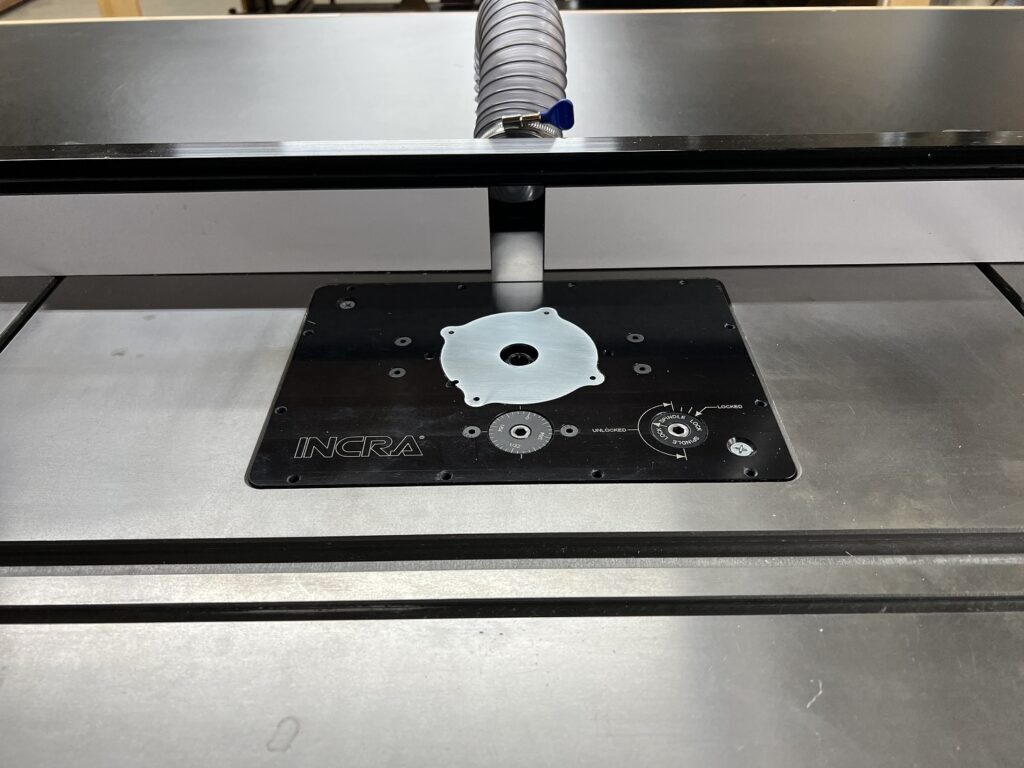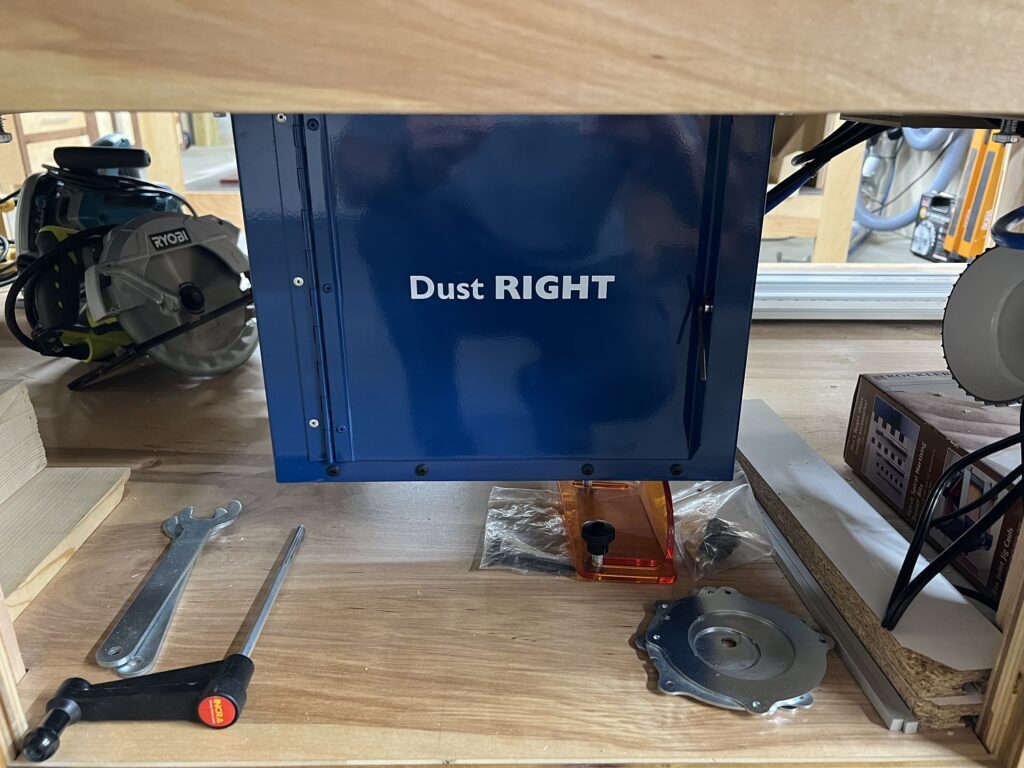 I used two pieces of angle iron, set in grooved wood supports under each side of the cast iron table. Bolts underneath the table pass through t-nuts in the wood supports under the angle irons at each corner, allowing fine adjustment of the cast iron table relative to the black melamine table top. This design works well, and represents the last time I ever created a manual drawing for anything I have made. After that, I moved to SketchUp and I have never looked back. My last set of hand drawn plans is taped to the wall as a memento.
The drill press is a Delta DP350. It has been a good machine, and the ability to change the speed without belt pully changes is extremely convenient. There was a problem with the pully mechanism at first, but Delta addressed it under warranty and the machine has run like a champ ever since. It has been in my shop for 19 years–making it the oldest station-tool in my shop. It has always had a bit of vibration, and the quill can be deflected a bit (it's not a Bridgeport mill), but a recent test confirmed that the runout on the chuck with a center-finding pin is .001 at full extension. Not too shabby. As much as I want that 18″ Nova, this thing has some sentimental value and just runs great.
There is a shop-built table made of 1″ Baltic birch with a 36″ Woodpeckers DP Pro fence. My review of the fence is here if you are interested.
The table has Powertec 1/4″-20 T-track for the fence and hold-down clamps, and 1/4″-20 machine screw insert levelers.
A shop-built crank extension allows the crank handle to clear the back of the table, which wraps around the column to accommodate the fence track travel I need for some shop-built jigs. The whole table, crank extension and all, comes off with four wing nuts.
PantoRouter
The PantoRouter is used to create machine joinery (mortise & tenon, dovetails, box joints, bowties, diamonds, dowels, etc.). It cranks out complex integrated joinery (e.g., angled double and triple mortise & tenon) with extreme ease and accuracy. It uses templates and a pantograph mechanism that creates both sides of the joint with a single setup. It is fitted with a Bosch 1617EVS router. It's a great machine.
The cart allows the machine to be moved and rotated to accommodate workpieces in various orientations, and includes a slide-out auxiliary table with an adjustable work support for longer or heavier stock. Details about my build of this cart can be found here if you are interested.
The work support fits nicely in the drawer.
Table Saw
The table saw is a SawStop 3hp Professional Cabinet Saw with the 52″ fence. Great saw.
Sleds, jigs, blades, etc. are close by and handy. It's a well optimized station for how I work, The factory blade embedded in the original brake cartridge—the result of my one and only brake activation—hangs on the rack as a memento. Yes, I went through the SawStop right of passage by running the blade into the aluminum fence on my Incra sled while making a miter cut. Barely put a nick in the fence. Incredible invention.
Miter Station
The miter saw is a Festool Kapex KS 120 REB. The workstation is constructed entirely out of cheap Home Depot lumber, except for the 1/4″ Baltic birch ply used for the cabinet door panels (because HD did not have any 1/4″ ply). They don't match–but ah well, it's shop furniture. Dust collection works very well, even without any hood or shield around the saw. Great saw with great dust collection, especially when paired with a 4″ port in the table behind the blade.
Jointer, Planer, and Band Saw
The jointer is a Powermatic PJ 882-HH. The band saw is a Powermatic PM 1500. Both are solid machines.
The thickness planer is a Dewalt DW735. A bigger floor-standing thickness planer is on the list of potential upgrades, but honestly, this planer has really served me well. I have heard complaints about snipe, but I think it's a calibration issue. It's critical that the infeed and outfeed tables are coplanar with the planer table. If you get that right, there is no perceptible snipe at all. Still, I want more capacity.
Thanks for your interest.